AutoSource Specializes in Branded Title Vehicles
Allow us to introduce you to the idea of getting real value in your next vehicle by purchasing an insurance auction used car, truck, SUV or Sport Van.  Often referred to as a Branded Title Vehicle.  
Where Smart Money Buys! Best Prices in America!
AutoSource vehicles have Histories! That's why we picked them.  We specialize in sourcing our vehicles differently than traditional dealerships. We use a network of expert re-builders across the country who are make and model specific.  We hand pick only the best used vehicles with histories and inspect them through our 151 point is pass and exceed our stringent quality and safety standards.  We are the largest dealer of Branded Titles in the country and we didn't become #1 without selling anything but the best value to our customers. We have Hassle-Free Pricing
 and 
a transparent Up Front Process of Full Disclosure on all our vehicles.
Save Thousands of Dollars without Sacrificing Quality
Drive a Better Vehicle with More Equipment 
Improve Your Life and Have a Lower Transportation Payment
Own a Newer Used Vehicle with Lower Miles
More Safety and Luxury for Much Less Money
It's About the Customers Positive Experience Buying a Vehicle
We treat our customers differently. Thousands have discovered this ultimate car buying experience. We offer a refreshing car buying experience creating authentically positive relationships.  Our goal is to earn your trust and help make the smart buy clear. 
We believe in the quality and resale value of our vehicles. We're so confident in the quality of our cars, we'd love to sell them again.  We'll pay more than any other dealer in the country for your used vehicle you purchased from us when you are ready to upgrade and trade in.
We drive the vehicles we sell. We only buy cars good enough for our friends and family and those are the same quality vehicles we offer to our customers at an exceptional value. 
If you are willing to shop smart you can get a better used vehicle and people will think you paid way more than you did.  Becoming part of AutoSource also includes perks like a referral bonus of $100 for everyone you refer to us when they buy.  
Luke Kjar (Pronounced CARE) founded AutoSource Motors in 2005 after years of personal experience finding and purchasing clean and "branded title" vehicles for his family as well as friends. The reason Luke Kjar consciously chose to have AutoSource Motors specialize in selling branded title vehicles is something he feel EVERY car shopper should know, whether or not they ultimately buy from AutoSource. He strongly believes that knowledge is power, and the secrets and invaluable insights he has learned working with branded title vehicles have drastically changed and shaped their 'car-buying paradigm' forever-and for the better.
This drastic paradigm shift began in 2002 wh
en Luke was attending college and looking for a truck to buy. He was introduced to a then-radical idea-purchasing a "
branded title
" vehicle from an insurance auction. Due to his entrepreneurial spirit, he felt he needed to know more and started digging. His digging uncovered knowledge that enabled him to find the diesel Ford F-250 truck he wanted at an insurance auction for over $10,000 cheaper than comparable clean titles on the market. The best part was that the truck he found was a theft recovery branded title vehicle. In other words, it was stolen and then confiscated, undamaged, by law enforcement after the original owner had been paid out by their insurance company. Once a vehicle is declared a 'Theft' by an insurance company, that company has a limited grace period to recover the vehicle before they 'write it off' as a loss, regardless of the vehicle's condition. Luke was astounded to learn how many easily 
repairable vehicles are auctioned off daily
, with unheard-of savings.
This new understanding solved an immediate issue facing the Kjar family-having a household of 7 drivers! This entirely new realm of branded title car purchasing enabled them to purchase newer vehicles with more safety/luxury features and fewer miles-all for much less money. They felt they had discovered the ultimate car-buying secret!
The Kjar family created the business model for AutoSource Motors once they sold several of their own vehicles, disproving the myth that branded title vehicles lack good resale value. This also substantiated their feeling that there were thousands of hardworking people, far and near, who would LOVE owning high-quality branded title vehicles, just as much as they did.
Luke knows that the key to ensuring positive ownership experience with a branded title vehicle is to observe the following core principles: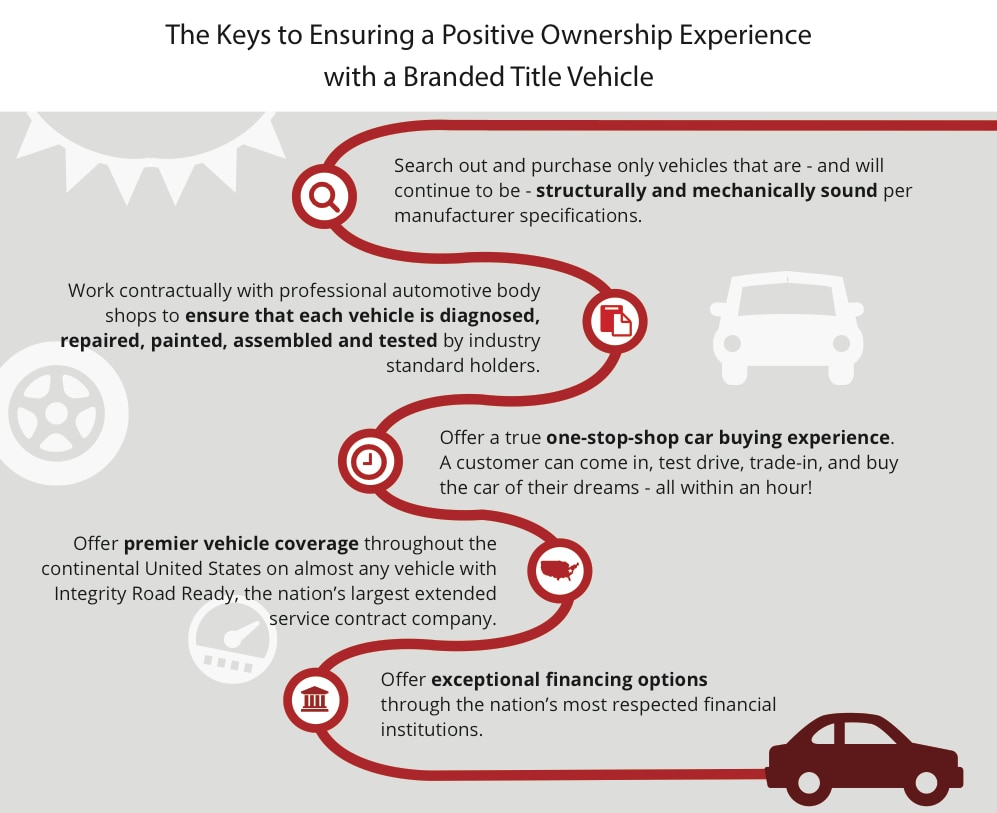 What is a Branded Title Vehicle?
A branded title car is a vehicle sold through an insurance auction for a variety of reasons, including theft recovery, hail damage, collision, water recovery, manufacturer buyback, and lemon law.
Luke Kjar brings to AutoSource years of personal experience buying, repairing, and owning branded title vehicles. They fully understand the importance of finding the best quality vehicles available across the country. Thanks to those years of experience, AutoSource Motors customers benefit from the broadest selection of banks and credit unions offering full loans on clean and branded title vehicles. AutoSource Motors also provides access to the largest national network of branded title buyers, inspectors, and body shops in order to provide the largest selection of high-quality branded title vehicles.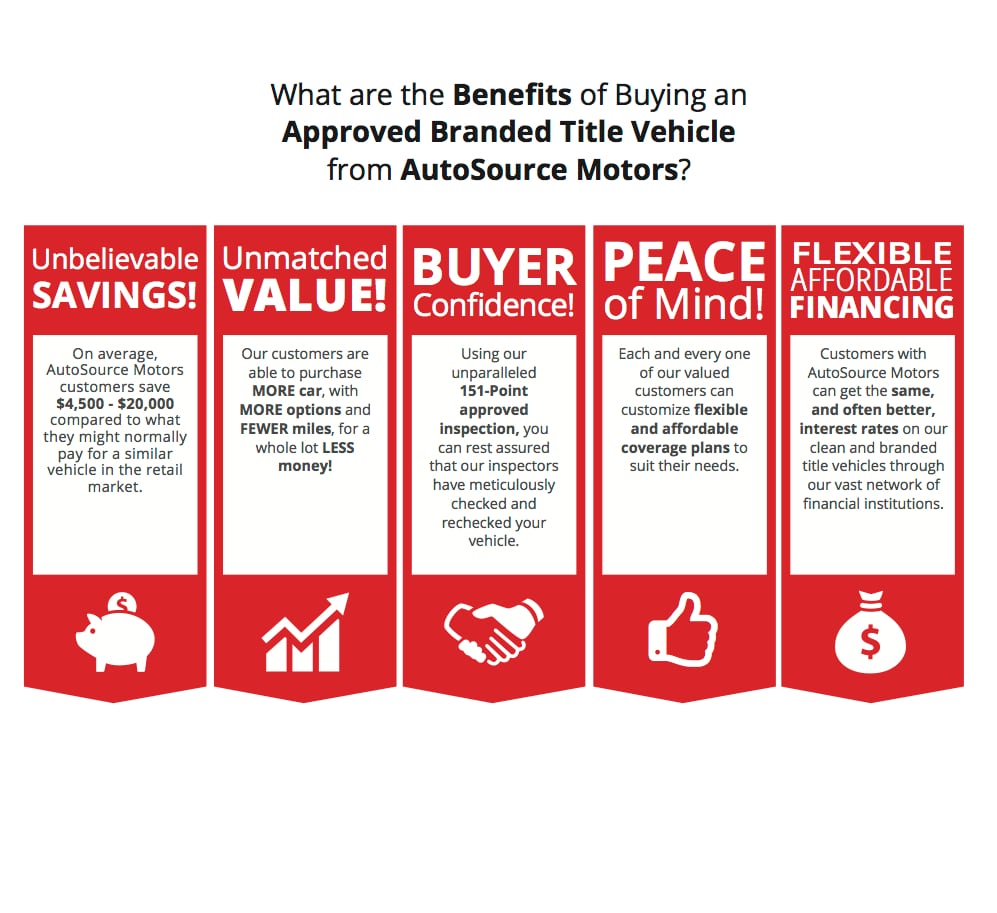 Unbelievable Savings!
On average, AutoSource customers save $4,500-$20,000 compared to what they might normally pay for a similar vehicle in the retail market. For example, one of our valued customers bought for their family a 2014 GMC Acadia Denali AWD Crossover with every desired option, including dual DVD players, a panoramic sun-roof, navigation, 2nd row captain's chairs, heated and A/C leather interior, a back-up camera, and a blind-spot warning system. Best of all, they SAVED OVER $10,000 as compared to other clean title vehicles on the market.
Unmatched Value!
To quote one of our stark raving fans: 
"AutoSource enables me to drive the vehicle I've always dreamt of driving, but never could quite afford. Their unique niche allows me to drive a vehicle I don't deserve to be driving!" 
Our customers are able to purchase MORE car, with MORE options and FEWER miles, for a whole lot LESS money!
Buyer Confidence!
Using our unparalleled 151-Point certified inspection, you can rest assured that our inspectors have meticulously checked and rechecked your vehicle to insure that any past repairs have been performed correctly and according to manufacturer specifications.
Peace of Mind!
In exclusive partnership with Integrity Road Ready, the most recognized extended service contract company for branded title vehicles in the US, each and every one of our valued customers can customize flexible and affordable coverage plans to suit their needs. Additionally, Integrity Road Ready customers have the freedom to use their extended service contract at any 'ASE Certified' mechanic/body shop inside the continental United States. Not even a manufacturer warranty affords you this kind of flexibility! If, for example, you're on a trip, hundreds of miles from your nearest factory dealer, and something happens to disable your vehicle, Integrity Road Ready's extended service contract provides towing to the nearest 'ASE Certified' shop, as well as repair. You'll be able to get back on the road, while Integrity Road Ready handles everything else! 
Flexible Affordable Financing Options!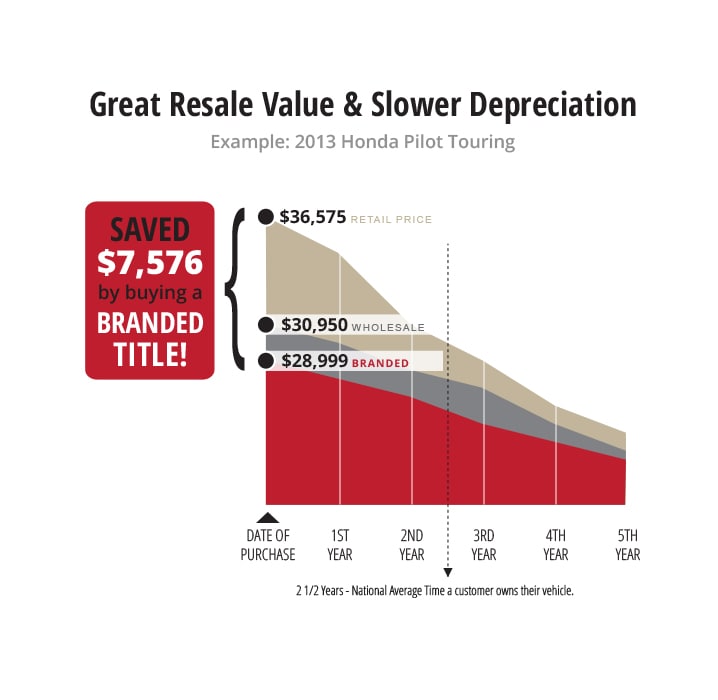 Frequently Asked Questions:
Am I able to get auto insurance for a Branded Title Vehicle?
Of course! After more than a decade of owning and selling branded title vehicles to family, friends, and valued customers, we know of no automotive insurance company that will not fully insure a branded title vehicle from AutoSource. An insurance company's main concern is to make sure that every vehicle is safe and road-worthy, and AutoSource vehicles easily meet their criteria after our rigorous 151-Point Inspection and regular safety/emission inspections.
Is Financing available for Branded Title Vehicles?
Absolutely! AutoSource is the ONLY dealership in the country to offer preferred financing on all clean and branded title vehicles using the most competitive financial institutions in the Rocky Mountain region. Thanks to AutoSource's impeccable track-record over the last decade, we've been able to establish contractual business-to-business relationships with several of the nation's largest lending institutions to provide full financing options for our valued customers! No other branded title dealer has ever been able to offer this kind of financing for retail customers-until now!
If I have "Bad Credit" can you help me get financing for one of your Branded Title Vehicles?
Yes, of course! In fact, AutoSource is the ONLY dealership that offers 'sub prime credit lending,' specifically for branded title vehicles and/or for customers that have an average credit score 650 or less. Additionally, by purchasing a branded title vehicle our customers are able to buy a car several years NEWER and typically with 50% fewer miles and more options. Each car is, of course, VERIFIED with our 151-Point inspection, which drastically diminishes the possibility of future breakdowns or repairs.
Does a Branded Title Vehicle still have its Manufacturer Warranty?
In almost every circumstance, the manufacturer warranty is null and void after a vehicle is sold to an insurance company. However, we understand and appreciate the benefit of having warranty protection on your vehicle. So, in an exclusive partnership with Integrity Road Ready, the nation's largest branded title extended service contract provider, we are proud to offer the best extended service contracts, providing factory-like coverage at astonishingly affordable rates that can be financed directly in your loan! At AutoSource, you can purchase one of our certified branded title vehicles and an extended service contract, while still saving thousands of dollars when compared to other clean title vehicles!
A Clean Title Vehicle means it's never been in an accident or had damage before, Right?
Unfortunately, no. On average, 30-50% of 'clean title' vehicles sold to the public have some history of damage. Because a majority of repairs are done privately, Carfax and Autocheck do not have access to repair or incident reports. Moreover, even if a dealer knows a 'clean title' vehicle has had a history of damage, there is no law requiring them to disclose this information. But some states are beginning to pass laws that a dealer is responsible to know the vehicles history and disclose it or they can be held liable.  So check your local laws - And this is the way AutoSource has always done business with our Up Front Full Disclosure process.  As a result, thousands of customers every day purchase 'clean title' vehicles, assuming their car has no history of damage. They only find out later that this isn't the case. Here at AutoSource, we believe in full disclosure of all facts and data related to your vehicle. After all, the Golden Rule is to 'treat others as you would want to be treated'.
I pulled a CarFax/AutoCheck on this 'Clean Title' vehicle and it shows 'No Accidents' This means that it's never had an accident or any damage, Right?
Unfortunately, No. Carfax and Autocheck are only allowed access to 'public' records. Many accidents and collisions go undocumented and undisclosed. However, using our exhaustive 151 Point Certified Inspection, we're certain to uncover evidence of past repairs and correct associated issues with any vehicle.