(888) 484-7893


 
View Inventory





(866) 950-6952

Lindon, UT
-------
370 N State Street  Lindon, UT 84042
-------
View Inventory






(888) 569-0735

Colorado Springs, CO




  


(888) 480-3354



Windsor, CO
-------
753 Champion Drive  Windsor, CO 80550
-------
View Inventory



   

Las Vegas, NV

-------


Click to view some of our
most sought after inventory.

Limited Inventory Available
Don't Hesitate.
________________________________
AutoSource Post Falls services the great people of Northern Idaho & Eastern Washington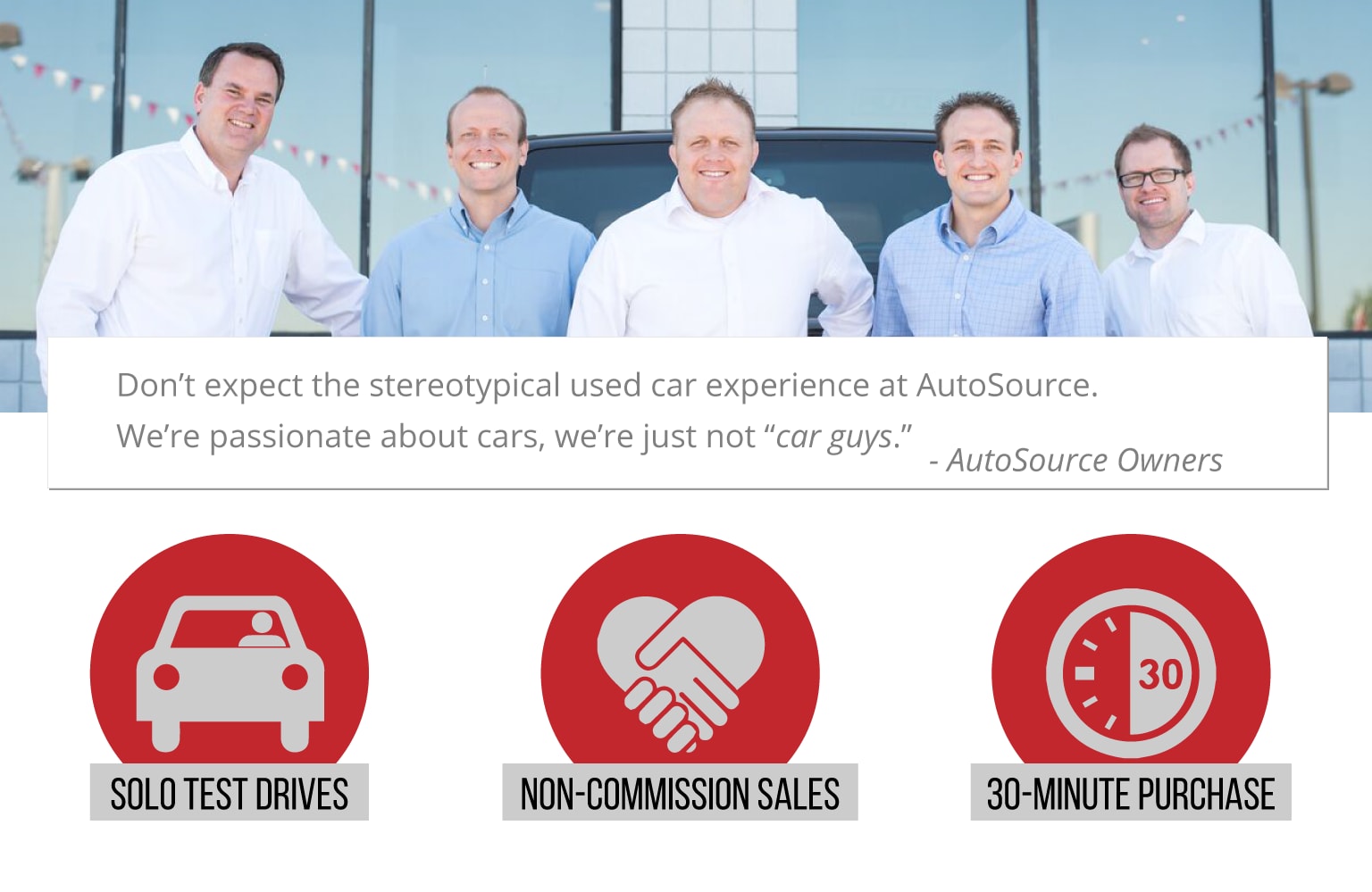 Welcome to AutoSource
We are the National Leader in Automotive Customer Value
You might ask, "How can any used car dealership claim to be the national leader in customer value?"  At AutoSource, we feel confident in this claim because we are the nation's largest seller of branded title vehicles.  For over a decade and for tens of thousands of customers we have seen time and time again that a customer can get more for their money when they buy one of our cars.
For too long and for too many, branded title vehicles have been misunderstood.
Growing up in a family with 7 kids, our founder, Luke Kjar (the oldest son) was looking for cars that would meet the needs of his large family while also being budget-friendly.  The more research he did, the more he kept finding that the best-priced cars had branded titles.  Tempted by their below market average prices, Luke did his research & got educated on what a branded title meant.  He discovered there was real opportunity here for his family.  Soon after purchasing a few of these cars, friends & neighbors began asking if he could do the same for them.  It occurred to Luke that if he could help friends & family, that he could also help the masses, especially those savvy, bargain hunters if he formalized the process of finding, inspecting & reconditioning cars with branded titles.  It was here that AutoSource was born.
AutoSource now buys & sells more branded title vehicles than any other dealership in the country.  We pride ourselves on a low-pressure environment (go on a solo test drive, for example) where our customers' time, questions & concerns are a priority.  We have multiple locations in Utah, Colorado, Nevada & Idaho and boast of a customer base that spreads throughout the country.  We invite you to view our inventory, give us a call or come in for a visit and discover what tens of thousands of other value-driven customers have discovered for themselves.